It's apparently wedding season. Mr. P and I have attended several weddings in the last few months and while my wedding planning days are over, I can't help taking note of creative ideas and I thought I'd share them on this blog for those who are still seeking wedding ideas.
One thing I always like as a wedding guest is receiving some sort of souvenir related to the reception seating place cards. It's quite common at weddings to use something that guests can later take home as an extra little souvenir on top of the wedding favors.
Here are some of my favorites:
Natural Seashells

This is perfect for a beach themed wedding and everyone gets a pretty shell to take home with them.
The seashells are natural seashells but they have been buffed and clean to be smooth and pretty. Each one has an incision in the top to place the name card and the ones I purchased even came with the blank cards. I purchased them from Beaucoup.
Wine Cork People
This DIY project is perfect for a winery wedding venue. You use old wine corks and dress them up with flowers for girls, hats for boys, which you can glue on. You can draw the faces with thin markers and you end up with one of the cutest souvenirs I've ever come across.
Fortune Cookies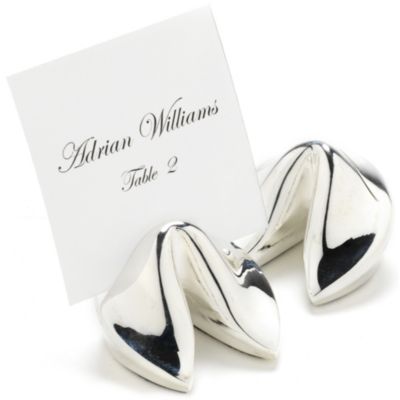 This is great for a Chinese wedding. The shiny silver plated fortune cookies also will make the tables look even more elegant. We actually considered this for our wedding place card holders but unfortunately they were sold out and not expected back in stock until after our wedding. You can find them here.
Potted Plants
This is perfect for an outdoor wedding. Mini potted plants with something stuck into the dirt that attaches the name and table number. You can view other designs for potted plant place cards here.
Fruits
I haven't been to any weddings that use this, but I've come across it several times in wedding magazines. You can use almost any fruit, but the most common I've seen is the use of apples, with the name tags attached to the front.